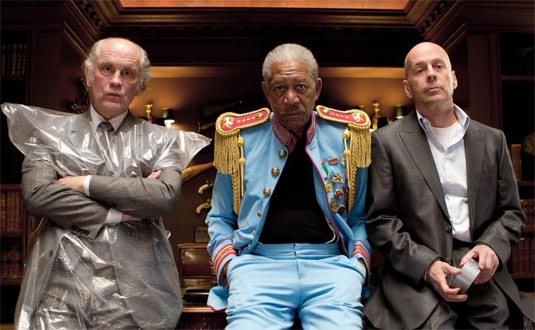 Not long ago, I listed RED as one of my five most anticipated films to close out 2010. I placed it among some pretty heavy company, the likes of The Social Network, Harry Potter and the Deathly Hallows Part I and the Coen Brothers' remake of True Grit. I did this because I am utterly enamored with the work of its co-creator, comic writer extraordinaire Warren Ellis (Read his sci-fi series Planetary and thank me later.), I am utterly enamored with just about every member of the ensemble cast, and I was utterly enamored with the idea: an action comedy about former CIA agents saddling up for a revenge mission.

Ellis' original comic miniseries is almost shockingly short; three slim issues. It's a dark, solitary tale of a single deadly retired agent named Frank Moses who, when an overanxious new CIA director sends a hit squad to eliminate it, turns his guns back on his former employers. That's it. No frills, no friends, no laughs.

To make the whole thing long enough to film, director Robert Schwentke (The Time Traveler's Wife) and writers Jon and Erich Hoeber (They wrote the atrocious Whiteout, but we'll let that slide.) sought to expand the tale while keeping the dark cool that ran through Ellis' original story. To do this, they gave Moses friends in similar predicaments and turned the villain into an apparently vast governmental conspiracy. Also, they made it funny. Does it work? Most of the time.

Frank Moses (Bruce "Bruno" Willis) is a retired CIA agent living a quiet life in a suburban neighborhood, decorating for Christmas and tearing up his pension checks just so he has an excuse to call his lovely benefits coordinator Sarah (Mary-Louise Parker) and ask her how her day is going. When a wet team (Which any spy thriller fan knows is called "wet" because their work is bloody.) visits him in the dead of night to try to eliminate him, Frank proves he's still got game, takes them all out and hightails it to Kansas City, where he promptly attempts to enlist the help of Sarah, who is so shocked by his arrival that he's forced to kidnap her (it's funnier than it sounds, believe me).

The next chunk of the flick is a road movie. Frank is on the run and visiting old friends like Joe Matheson (Morgan Freeman), who's living out his days in a retirement home, and stuffed pig-bearing Marvin Boggs (John Malkovich) a paranoid retired operative hiding out deep in the Florida swamps.

On Frank's trail is William Cooper (Karl Urban), an ambitious CIA honcho ordered by his superiors to take care of the Frank problem. After learning that Frank has been tagged RED (Retired Extremely Dangerous), Cooper pulls out all the stops to make sure his targeted it history, but Frank, with his friends in toes, foils him at every turn. As the film progresses, details emerge about why exactly Frank has been targeted, and he must enlist the help of saucy former MI6 operative Victoria (Helen Mirren) and Russian agent Ivan (Brian Cox) to bring the wild ride to a close.

One of the things I love about RED is that it never bills itself as anymore than what it is: an action comedy about spies getting old. For me, it covered each of the bases well. The action was well-paced, fun to watch and even cheer worthy at times. The comedy had sharp timing, good delivery and a fair share of belly laughs, and the getting old thing was made amusing without becoming what the whole movie was about.

The problem with RED comes when you try to take too seriously that plot that the filmmakers threw together to make up for the fact that the source material was too short. It's a thinly-stretched tale, to be sure; to mention awfully farfetched. But that shouldn't change your enjoyment of the finer things. Come on, John Malkovich uses a grenade launcher like a baseball bat in this movie, and Helen Mirren fires a machine gun at a limousine. That's a pretty healthy dose of badass.

Speaking of the cast, they're a masterful bunch, but you knew that already. Freeman and Mirren are two of the best actors in the world, and it shows. Malkovich is one of the great portrayers of crazy characters in the business, Parker is great at being in over her head, and Willis is an action icon. It's a recipe for awesome.

RED is not perfect. It's not a mind-blowing cinematic experience, or a profound one, or a though-provoking one. It is, however, a highly-polished, completely fun action flick, and one that's definitely worth seeing.



Matt's Call

: I stand by my declaration that it's among the five most worthy flicks at the cinema last fall. It's not an Oscar-winner, but it was never trying to be. It's a popcorn flick, and it's among the best popcorn flicks I've seen in a while.